Coutts Centre
FOR WESTERN CANADIAN HERITAGE
Launched in June 2011 thanks to a generous gift from the late Dr. Jim Coutts (LLD '12), the Coutts Centre for Western Canadian Heritage preserves and celebrates the diverse heritage that is central to the spirit of the west, honouring both its namesake and the land he so admired.
Just east of Nanton, AB, the Coutts Centre is comprised of a quarter section of land on the more than 100-year-old property that once belonged to Jim's grandfather. The quarter section of land includes the original homestead, extensive gardens and restored outbuildings.
This unique property is a living testament to Jim's family history and his own legacy as a community-driven Albertan. The Centre supports community involvement with artist residencies, festivals, weekend brunches and live music, and encourages community use through rentals and event bookings.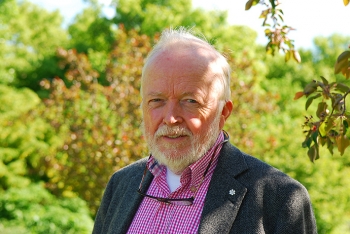 "A piece of you will always stay wherever it is that you came from, and you also carry a piece of that landscape with you,"
Jim Coutts (LLD '12)
Learn about the Coutts Centre from staff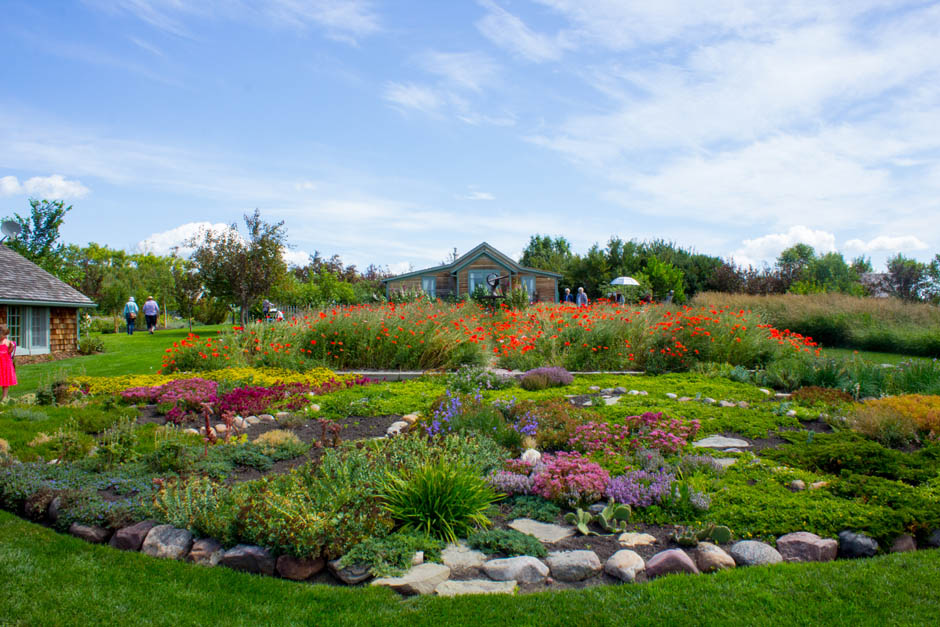 DISCOVER
Heritage Gardens
Visiting the Coutts Centre gardens is a wonderful way to discover the beauty and history of Jim's passion for native plants. Walk the pathways or set up your easel for an en pleine air art session. The quarter-section of land includes many unique gardens including:
Grass plots with 32 different species native to Western Canada
Peony, rose, lily & poppy gardens
Herb and vegetable gardens
Beautiful features including a medicine wheel and Three Sisters garden plot
A stunning elm allée (avenue)
Every building tells a story
Visit the Centre
Gardens and Trails
Natural trails and tended gardens display local plants and flowers.
Jim's House
The original homestead, reclaimed in the 1980s is home to an incredible art collection.
Hayshed Pavillion
A large, airy venue with beautiful chandeliers is a beautiful backdrop for your next event.
Bandstand
The octagonal bandstand's shape carries sound beautifully surrounded by picnic tables and concert-style seating
Rock Pathway
Made with stones gathered from the nearby family ranches, the pathway evokes a river flowing through the site.
Greenhouse
The greenhouse is made of repurposed windows, doors, frames, and is a work of art as much as a functional building.
Camera Obscura
A repurposed grain bin becomes a giant camera to take in a 360 view of the property.
Writers Cabin
Jim's mother's old granary is now a quiet space for reflective writing or art.
Art Sculptures
Walk the grounds to see many sculptures created by local artists.
South Barn
A meeting space for retreats and gatherings up to 36 people.
Chicken House
A beautiful open-concept building for classes, workshops or meetings. 
Medicine Wheel
The prime time to see this garden is in late June when the cacti are blooming.
THE COUTTS HOMESTEAD
Artist-in-Residence Program
Writers and artists welcome!
Artists of any discipline can apply for residency. 
Stay at the historic homestead
The original Homestead house built in 1904 and reclaimed in the 1980s has 2 bedrooms & 1 bathroom, a full kitchen and laundry with 2 sitting areas. No TV. Full access to the grounds is available during your stay, with a share-the-space policy during our peak season.
COME VISIT THE COUTTS CENTRE
Public Hours
The Centre operates from Mothers Day to Thanksgiving.
We are a garden venue site that host many private events.  We also enjoy hosting members of the public when possible.
Mon-Thurs
To ensure we are able to accommodate your visit, please call or email before your visit.
Fri-Sat
Closed for private events
Sunday
The general public is welcome for self guided tours. We are also open for public programing.  Please check our event page for more information.